Skip to Content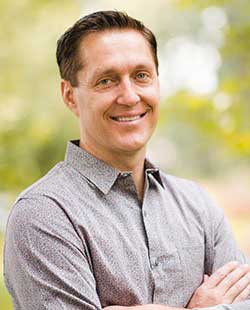 Dr. Blake Chandler
Pediatric Dentist
Knowledge is power and Dr. Chandler is here to empower!
It is easy to feel nervous about going to the dentist, especially as a kid! With Dr. Chandler, comfortability is key and you can feel confident knowing he is your biggest resource for information. As the second youngest of nine children, he understands the busyness of family life and uses this to help him serve families to his best ability!
From a young boy, collecting and selling golf balls he found at a local golf course, Dr. Chandler has been a determined individual. He spent the first 10 years of his career in dentistry practicing generally. During this time, he became inspired to focus on children specifically and began a two-year residency in pediatric dentistry at Miami Children's hospital. It was during this time that Dr. Chandler met his wife, as she was completing her externship as a pediatric dentist from Brazil!
You might be surprised to find that between a two-year mission to Argentina and his Brazilian bride, Dr. Chandler is fluent in Spanish and Portuguese. From his young adult daughter, eight siblings and their families to his in-laws in Brazil, traveling and visiting family are almost a full-time job in itself! An Avenger fanatic, piano player, avid reader, expert skier and so much more, Dr. Chandler is full of surprises!
Dr. Chandler is experienced and beyond that, he is here to support your family in creating healthy lifestyle habits that lead to a healthy mouth. Instead of being quick to treat, Dr. Chandler likes to evaluate the entirety of a situation and offer information to help you make the best decisions for your family.